Description
The Héliopic is a 102-room hotel offering the comfort of a 4-star hotel close to the centre of Chamonix and the Aiguille du Midi cable car. The newly built hotel (inaugurated in December 2013) combines traditional materials with contemporary design in a luxurious and elegant way. The buildings consist of two 4-storey chalets designed by Jean-Claude DESCOMBES. The rooms are equipped with a balcony overlooking the surrounding mountains.
The hotel is equipped with a large reception area which has a beautiful panoramic view of the Mont Blanc massif. With its numerous rooms and 4 seminar rooms, the Heliopic is perfectly suited to hosting groups (company seminars, sports groups, etc.)
Front of the hotel Heliopic
Hotel facilities
The hotel has a modern and complete equipment:
Indoor swimming pool
Sauna
Tepidarium
Hammam
Spa with Turkish bath (steam)
4 seminar rooms
Free Wifi Internet access
Outdoor or covered parking
Ski room
SPA By Nuxe
Inside the Héliopic, discover the SPA By Nuxe for a complete makeover during your stay in Chamonix.
Indoor swimming pool heated to 29°c with a spectacular water wall
Bubble bath at 40°C
Hammam at 45°C: the steam releases toxins and purifies the skin.
Cold bath at 18°C: enjoy the benefits of cool water to reactivate blood circulation after the hammam
Tepidarium with relaxation benches at 37.2°C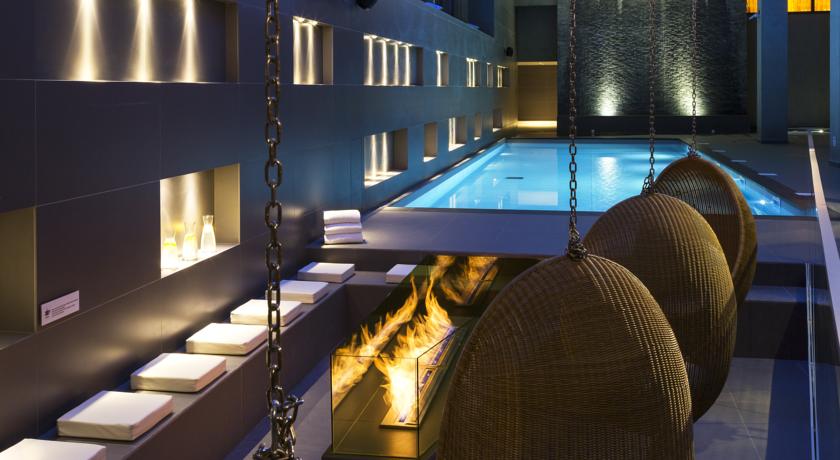 Address Heliopic
50, place de l'Aiguille du Midi – 74400 Chamonix Mont Blanc.
Conference space
For your conferences and seminars, discover the conference space within the Héliopic Chamonix hotel.
Conference room Heliopic Chamonix
Room photos
Discover in pictures the types of rooms available at the Heliopic Sweet & Spa.
Standard room Heliopic
Standard room
Heliopic Family Room
Family room
Superior room Heliopic
Superior room
Restaurant
Discover traditional cuisine in a designer restaurant with a mix of mountain spirit and retro or chic details.
Heliopic Bar
Heliopic Bar
Restaurant of the Héliopic Chamonix
Ski shop
Within the hotel, discover the Ski Shop to rent your ski equipment with peace of mind. It is possible to rent all the necessary equipment to face the ski slopes of the Chamonix valley: ski, snowboard, helmet…